Our Prices
Hand picked tires for good tread and longest wear life.

All Used tires are $30 and up with FREE mount and balance.

Tire Repair at the low price of $10

Conveniently located just south of central point at

830 Harrisburg Pike

Columbus, Ohio 43223

(614) 274-0059

Call us at (614) 274-0059 and we can order NEW tires.
About Us
We have been selling New & Good Used Tire's in Columbus, Ohio on the westside for OVER 30 YEARS

Launched by Tommy Brown in his fathers garage. He started just plug tires and progressed into a full service tire shop. Tommy has been married for several years to Tammy(AKA: The boss & Mom).

Now in the drivers seat Lonnie Brown.

Tommy now is proudly passing on the business to his son Lonnie Brown.

His son has the same commitment to the customers and only sells the highest grade Used Tires Columbus, Ohio can offer. Call ahead and reserve yourself a set of good used tires for your car.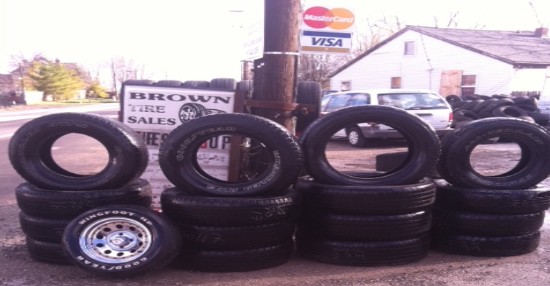 Racing